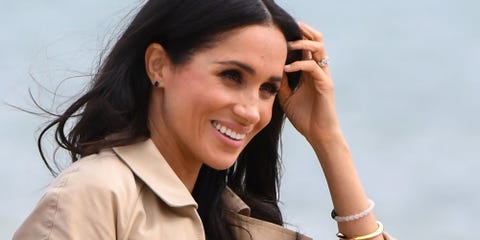 Getty ImagesJames D. Morgan
While Kate Middleton and Prince William have had a week of very high-profile events so far, Meghan Markle has also been out on her own engagements. Yesterday, she and Prince Harry attended the carol service for the Henry van Straubenzee memorial fund in Chelsea. She read a passage there and was photographed in a navy coat and dress. Today, she did her own solo event that was kept secret until after it happened.
Meghan was at an Association of Commonwealth Universities event at King's College. She met there with university leaders, academics and international scholarship students "to discuss the role of universities in addressing human trafficking and modern slavery, gender equality and inclusion, peace and reconciliation, and climate change and resilience," the ACU announced on its site. The ACU also tweeted a photo of Meghan at the event, where the pale pink coat and short-sleeved black top she wore were visible.
While Meghan has not formally announced her first patronage yet, she has already made it clear that increasing access to higher education is an important cause to her. In a speech to Fiji college students during her royal tour in October, Meghan talked about the ACU and her own experiences affording her Northwestern University education:
"The journey of higher education is an incredible, impactful, and pivotal one," she said. "I am also fully aware of the challenges of being able to afford this level of schooling for many people around the world, myself included. It was with scholarships, financial aid programs, and work study from my earnings from a job on campus that went directly towards my tuition that I was able to attend university, and without question it was worth every effort."
She stressed the importance of giving people to means to pursue a college education should they want one: "Everyone should be afforded the opportunity to receive education that they want but, more importantly, the education that they have the right to receive," she continued. "And for women and girls in developing countries, this is vital. Providing them with access to education is the key to economic and social development, because when girls are given the right tools to succeed, they can create incredible futures—not only for themselves but for all of those around them. And while progress has been made in many areas across the Commonwealth, there's always room to offer more opportunities to the next generation of young adults and specifically to young women."